So we finally get to kick off the new GQ season with Pax Unplugged in the greatest city on earth, Philadelphia. Home of the reigning Super Bowl champs and Philly Cheesesteaks. Enjoy Rocky? Creed? Yeah me too. You are welcome. Anyways Friday kicked everything off spoiling 6 new spot gloss characters with Cassian, DJ, Grievous, Leia, Luke and Snoke all from Way of The Force.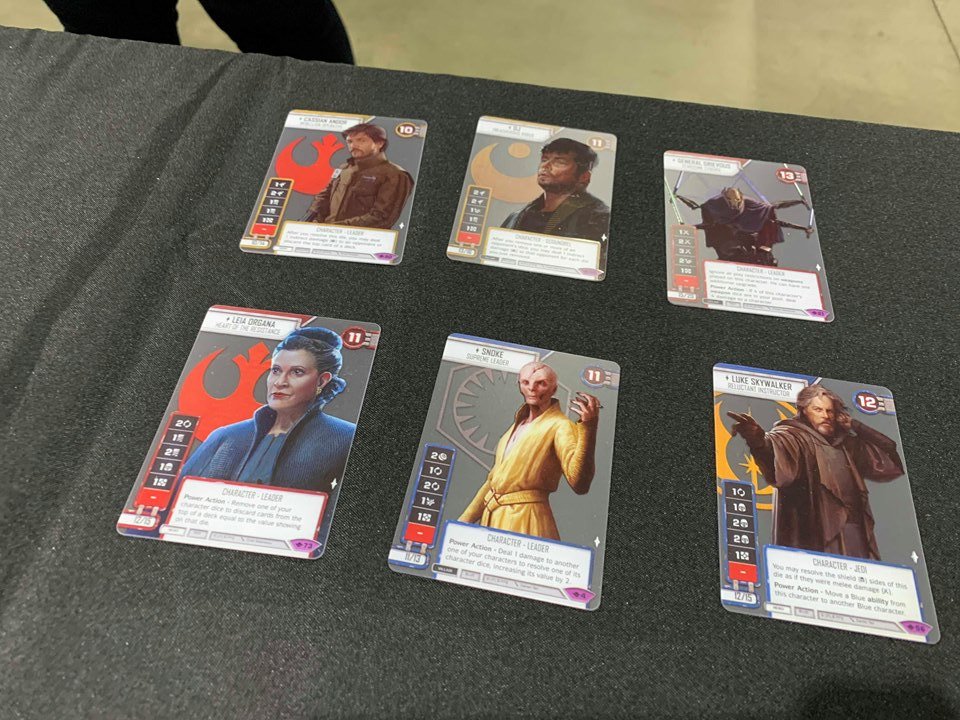 It was a little disappointing to not see any Across the Galaxy characters but I understand the need to spread it out. I was lucky enough to walk away with Luke, Snoke x2, Cassian, Yoda and Maul. The new ticket system was amazing, 2 for a win and 1 for a loss. Everyone left happy. You could lose all your games each day and walk away with 18 tickets.
Getting into the tournament it was obvious in prep that Armor Reinforcement with Shadowcaster was the way to go. Being able to get a vehicle out for 3, that has a 6 side is pure value. Sure it might cost 3 to resolve the 6 side but we all know how easy it is to get mods on that thing. Now Tommy and I did go a different direction than what others had obviously seen in eL3/Engineer/Engineer/AR. Just looking at that lineup you see how powerful it is but we wanted to see if we could push it a bit more. How does a hero deck do that? Well Yoda of course!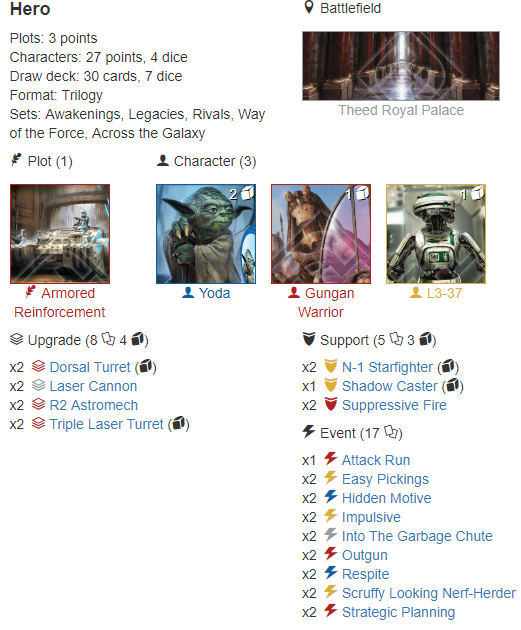 This is where we ended up. Yoda's dice kept you consistent and let you generate resources beyond what the L3/Eng deck could. It also could let you turtle hard with shields if you need too. We also had to go up to 8 mods because we do not cycle the deck as quickly as Engineers do. Overall I was happy with the deck, moving forward I would find room for a second Attack Run and Vandalize. I think no Vandalizes were a mistake but we had banked a bit on the N1 just blowing things up. Which it did a bit.
Game 1 vs Vader/Greedo
I don't really remember anything specific about this game. Just that he didn't get a Fear and Dead Men off on me, nor did he drop a Fist. I was able to jam down the Caster without worry of Vandalize or an N1 blowing it up. Vader crumbled to a Caster with mods galore. 1-0
Game 2 vs eYoda/L3/Gungan/AR
A mirror match! I actually don't hate them. It is a really fun game of trying to bait others into certain plays. He also ran the N1 so we actually both just used AR to play that and it became a race to damage from that point. I was able to get my Dorsal and Triple Laser turrets out faster than him and just get ahead on damage. Add in a few resets and Yoda shielding up, I was able to ride the game out. 2-0
Game 3 vs eL3/Eng/Eng/AR
Now this is similar to a mirror since we still try to do the same thing. This game was against JRod who 6-0'd on Saturday! I used AR for an N1 again but he used it for his Caster. My guess was that he did not have an N1 in his list. Once mine was out I rolled that special well above what I should have. He was able to remove it a few times but also always had an answer while an action ahead, whether he would ready with R2 or Strategic Planning. It was really a interesting game and probably the best one I played in all weekend on both sides. Ultimately I was able to drop my Caster as well by hard playing it. I eventually won on Attack Run into Impulsive for the kill. He had an out earlier but let me take 2 Shields on the N1 when he could have removed that. I lose if I didn't take the shields. Great game and congrats to JRod on the 6-0! 3-0
Game 4 vs Vader/Greedo
Here is where my misery begins. Turn 1 he takes 2 shields with Vader and 2 resources. Does the Theed power action and Well-Connected to get to 6 resources. Drops a fist and my day is ruined. Vader with the power action on the Fist makes it so consistent. We go into Round 2 with me behind already to just get destroyed by a Fear and Dead Men of 4 to each. I was so far behind on damage at this point and my Caster wasn't fully set up. I managed to claw back some damage but that game had really been decided at that point. Not drawing my Scruffy's had killed me. 3-1
Game 5 vs Leia/Lando
Remember my misery? Yeah it continued. I run into Minion who is a great mill player with a mill deck teched specifically against Caster decks. It was brutal. He destroyed my hand. My deck. My pride. My family name. All destroyed. I ready my Caster? He had Strategic Planning to exhaust it. I didn't kill a character and it wasn't really close. He told me after that he finished 4-0 against Caster decks. 3-2
Game 6 vs Snoke Aphra BD
I just dropped 2 straight. One a blowout from mill. I was a little on tilt and not making the best decisions. I think this match is very winnable but it was not in this game. I think it was relatively close early but pulled away once Snoke natural rolled out 4 damage along with having 000, BT and Climate Array all online. It was well played by him just forcing the damage early and I just wasn't able to catch up to him. I also re rolled my Yoda and L3 dice 3 times and never hit a special or focus on any 3 of those dice but that is life sometimes! 3-3
I think the hardest part of this was going 3-0 to fall to 3-3. I know that I had a good deck and was playing well that day but just had a few things go against me and it snowballed. I was happy with how it performed but I just had to move on as Sunday was another GQ for trilogy! I ended up skipping Saturday just to do pods with friends and I was happy I did. I will be sure to do a write up on my Sunday adventure, check back soon for Part 2.
If you want to continue support us check out our Patreon page! Just $1 gets you access to our discord.